Trusts & Estates Litigation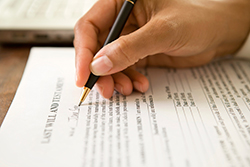 When it comes to ensuring that a loved one's wishes are met or holding a fiduciary accountable for their actions, Rebecca Blair is an experienced advocate.
Wills and Estates Litigation
The death of a loved one can be difficult enough without the added stress of knowing his or her last wishes are not being honored. At the Blair Law Firm, attorney Rebecca Blair disputes claims for and against estates. So, whether you are protecting a family member's estate against false claims or you are suing for access to what should rightfully be yours, The Blair Law Firm can help. This type of litigation includes:
Undue influence claims
Claims of Breach of Fiduciary Duty--abuse of Power of Attorney
Representation of executors in estate-related litigation (including claims for fees, lawsuits on behalf of or against the estate)
Representation of beneficiaries and other creditors in claims against the estate
Declaratory judgment actions to identify property of the estate
Declaratory judgment actions to interpret language of a testamentary document
Fee disputes
If you would like to see more videos to please go to our Videos page.
Trust Litigation
The Blair Law Firm represents beneficiaries and trustees in actions related to the administration of trusts. These actions include:
Modification of trusts
Change of trustees
Actions for accountings
Breach of Fiduciary duty claims
Conservatorships
Making the decision to establish a conservatorship for a loved one who can no longer handle his or her own affairs can be one of the most difficult decisions a person makes. The Blair Law firm can guide families through this process.
Contact The Blair Law Firm Today
The Blair Law Firm provides quality legal counsel to individuals and businesses throughout Tennessee in litigation matters involving trusts and estates, personal injury, business disputes and insurance coverage disputes. Contact the firm online or call (615) 953-1122.