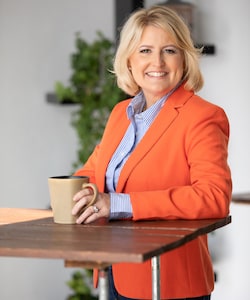 Rebecca C. Blair
Attorney
Rebecca Blair Solves Problems
Having litigated cases in state and federal courts for twenty-six years, Rebecca understands that litigation is about solving a problem. Whether the litigation is the means for solving the problem or litigation is the problem, Rebecca knows that what her clients need is a solution. Rebecca knows that no one enters into litigation lightly. Litigation is time-consuming, expensive, and stressful, but sometimes necessary. Rebecca knows how much is at stake for her clients. Rebecca's goal is to get her clients through the litigation process as efficiently as possible and with the best results.
Rebecca has represented individuals, families, beneficiaries, executors, administrators, trustees and trust companies in all aspects of estate and trust litigation. Rebecca helps families protect the wishes of deceased loved ones. She helps beneficiaries protect their inheritance. She helps executors, administrators and trustees protect the assets of the estate and guides them through estate conflict with beneficiaries.
Having lived in the Franklin/Brentwood/Nashville community her entire life, it is no surprise that Rebecca is also often called upon to use her problem-solving skills for individuals and business in our community experiencing other types of conflict. Rebecca is listed in The Best Lawyers in America © 2023 in the field of Personal Injury litigation. This honor from her colleagues was awarded for Rebecca's years of experience fighting for the rights of clients who have been catastrophically injured or who have lost loved ones as a result of the negligence of another. Rebecca's personal injury clients are often facing loss and pain. They often have mountains of bills and an uncertain future. Rebecca fights for her clients to solve those problems.
Rebecca is also listed in The Best Lawyers in America © 2023 in the field of Business Litigation. Rebecca guides local business clients through conflict when they have been sued or fear being sued in situations such as employment disputes, tort claims, contract disputes and insurance disputes. Rebecca also pursues claims for her business clients when they have been wronged.
Legal Experience
In 26 years Rebecca Blair has developed an immensely diverse practice. Ms. Blair has substantial experience in many aspects of civil litigation, including tort law, insurance coverage litigation, business litigation, and probate litigation. In addition to her litigation experience, Ms. Blair is also listed as a Rule 31 General Civil mediator.
Professional Accomplishments
Selected to a list Top 50 Women Lawyers in the Mid-South in 2012 by Mid-South Super Lawyers/ Memphis Magazine, Rebecca Blair enjoys an AV Preeminent Peer Review rating in Martindale Hubbell. Rebecca Blair was recently selected by her peers for inclusion in The Best Lawyers in America© 2023 in the fields of Business Litigation and Personal Injury Litigation-Plaintiffs. Ms. Blair has been listed with Mid-South Super Lawyers in the area of Plaintiff's Personal Injury Litigation every year since 2009, and was selected to Top 50 Women by Super Lawyers in 2021

EDUCATION
University of Tennessee, Knoxville
B.A. 1993 Cum Laude
University of Tennessee, Knoxville
J.D. 1996 Cum Laude
ADMITTED TO PRACTICE
Tennessee
United States District Court, Middle District of Tennessee
United States Court of Appeals for the 6th Circuit
United States Court of Appeals for the 11th Circuit
United States Supreme Court
BAR ASSOCIATION AND PROFESSIONAL ACTIVITIES
Leadership Roles:
UT College of Law Alumni Council (New Appointment)
T.L.A.W. (Past President)
Nashville Bar Association (Past Board Member)
Bench Bar Committee of the Tennessee Judicial Conference (Past Chair)
TN Bar Association House of Delegates
Board of Trustees of Nashville Bar Foundation
Board of Trustees of Franklin First United Methodist Church (Past)
Adjunct Professor Belmont University Law School (2016, 2017)

Professional Honors:
Rebecca has been recognized by Best Lawyers every year since 2013 in Commercial Litigation and Personal Injury Litigation - Plaintiffs?
Rebecca Blair was recently selected by her peers for inclusion in The Best Lawyers in America© 2019 in the fields of Business Litigation and Personal Injury Litigation-Plaintiffs.
AV Preeminent Peer Review Rating
Listed Mid-South Super Lawyers since 2009
America Bar Association, T.I.P.S. Leadership Academy Class of 2008-2009
Nashville Bar Foundation, Fellow
Tennessee Bar Foundation, Fellow
Listed Top 50: 2013 Nashville SuperLawyers
Listed Top 50: 2013 Women Mid-South SuperLawyers
Listed Top 100: 2013 Tennessee SuperLawyers by Mid/South Super Lawyers/ Memphis Magazine
Rebecca Blair enjoys an AV Preeminent Peer Review rating in Martindale Hubbell
COMMUNITY SERVICE AND ACTIVITIES
Leadership Franklin, Class of 2010-2011
Davidson County Foster Care Review Board
S.O.S.A. ("Stamping Out Sexual Abuse")
PUBLICATIONS
Tennessee Bar Journal, "New Tennessee Law May Reduce Frivolous Suits but Make Valid Claims More Difficult" September 2008
Associate Editor - Tennessee Tort Law Letter (2005- 2007)
SEMINARS AND SPEECHES
Speeches: Probate Law and It's Effects on Domestic Practice - Tennesse Trial Lawyers: Domestic Law Forum - April 8, 2021
Speeches: Surviving your First Deposition - Nashville Bar Association, Friday Fundamentals Program - March 8, 2019
Seminar: Probate & Estate Planning Conference - Tennessee Attorneys Memo - December 13-14, 2018
Speeches: Probate and Estate Planning Conference - Tennessee Attorneys Memo - December 7 & 8, 2017
Speeches: Friday Fundamentals - Nashville Bar Association February 9, 2018
Speeches: Tennessee Personal Injury Law Conference - Nashville, Tennessee - hosted by TAM - September 20-21, 2018
Speeches: Probate Litigation Case Law and Legislative Update - Tennessee Attorneys Memo - August 3, 2017
Speeches: Tennessee's Revised Uniform Fiduciary Access to Digital Assets Act - Tennessee Attorneys Memo - February 16, 2017
Speeches: Probate Litigation Case Law and Legislative Update - Tennessee Attorneys Memo - December 9, 2016
Speeches: Probate Litigation Case Law and Legislative Update - Tennessee Attorneys Memo - October 21, 2016
Speeches: Probate Legislative and Case Law Mid-Year Update - Tennessee Attorneys Memo - June 21, 2016
Speeches: Probate Litigation in Tennessee: Hot Topics and Recent Developments - M. Lee Smith Publishers - May 28, 2015
Speeches: Conservatorships and Guardianships vs. Power of Attorney - Support Group for Elder Care - February 17, 2015
Speeches: Probate & Estate Planning Conference for Tennessee Attorneys – Tennessee Attorneys Memo - October 23-24, 2014
Speeches: Estate Planning and Probate Practice – Nashville Bar Association - October 7, 2014
Speeches: Tennessee Automobile Accident Law Conference – Tennessee Attorneys Memo - September 26 , 2014
Seminar: 2014 Mid-Year Tort Law Update – M. Lee Smith Publishers - July 16, 2014
Seminar: Case Evaluation from the Plaintiff's Perspective – Nashville Bar Association - April 17, 2014
Seminar: Hot Topics in Tennessee Probate Litigation – M. Lee Smith Publishers - April 17, 2014
Seminar: Probate & Estate Planning Conference for Tennessee Attorneys – M. Lee Smith Publishers - November 2013
Seminar: 2013 Law Conference for Tennessee Practitioners – M. Lee Smith Publishers - November 2013
Seminar: Annual Medical Malpractice Conference - M. Lee Smith, Publishers - May 2013
Seminar: Conservatorship Panel - Tennessee Bar Association, Sponsor - February 22, 2013
Seminar: Probate Litigation - Sumner County Bar Association, Sponsor - February 7, 2013
Seminar: Tort Law Conference for Tennessee Attorneys - Tennessee Attorneys Memo, Sponsor - December 14, 2012
Seminar: Probate Planning and Administration - M. Lee Smith, Sponsor - November 16, 2012
Seminar: Issues in Conservatorships - M.Lee Smith, Sponsor - November 1, 2012
Seminar: Will Contests in Tennessee - M. Lee Smith, Sponsor - October 16, 2012
Seminar: Tennessee Judicial Conference Bench Bar Program - Tennessee Bar Association, Sponsor - June 2012
Seminar: Goals of Corrective Justice - Lipscomb University Law Camp, Sponsor - June 25, 2012
Seminar: Hot Coffee - Lipscomb University, Sponsor - November 30, 2011
Seminar: The 5th Annual Law Conference for Tennessee Practitioners - Tennessee Attorneys Memo, Sponsor - November 3-4, 2011
Seminar: Tennessee Probate & Estate Planning Conference - Tennessee Attorneys Memo, Sponsor - October 14, 2011
Seminar: Estate Planning and Probate Practice Institute: Development, Strategies and Tips for Estate Planner and Probate Practitioners - Nashville Bar Association, Sponsor - October 11, 2011
Seminar: Hot Topics in Probate Litigation - Williamson County Bar Association - October 7, 2011
Seminar: Ethical Issues in Probate Litigation - Nashville School of Law, Sponsor - October 5, 2011
Seminar: Medical Malpractice Conference for Tennessee Attorneys - Tennessee Attorneys Memo, Sponsor - May 11, 2011
Seminar: Tips for Probate Draftsmen from the Litigators' Perspective - Nashville Bar Association, Sponsor - March 23, 2011
Seminar: Probate Litigation: Conservatorships, Will Contests and Claims Against Estates - Nashville School of Law, Sponsor - March 23, 2011
Seminar: Tennessee Supreme Court Tort Cases in 2010 - Tennessee Attorneys Memo, Sponsor - December 2010
Seminar: Medical Malpractice Conference for Tennessee Attorneys - Tennessee Attorneys Memo, Sponsor - May 2010
Seminar: Deciding Whether to Accept Representation: Case Investigation, Employment Contract, and Ethical Considerations - Nashville School of Law, Sponsor - March 10, 2010
Seminar: Annual John Dice Seminar - Memphis Bar Association, Sponsor - December 16, 2009
Seminar: Law Conference for Tennessee Practitioners - Tennessee Attorneys Memo, Sponsor - Fall 2009
Seminar: 2009 Amendments to Medical Malpractice Act Effective July 1: What Tennessee Attorneys Must Know - Tennessee Attorneys Memo Audio Conference, Sponsor - July 21, 2009
Seminar: Medical Malpractice Conference for Tennessee Attorneys - Tennessee Attorneys Memo, Sponsor - May 8, 2009
Seminar: Effectively Handling Malpractice Cases in Tennessee - TBA Bar Center, Sponsor - March 6, 2009
Seminar: The Fundamentals of Civil Litigation in Tennessee - Day & Blair, Sponsor - December 15-16, 2008
Seminar: Law Conference for Tennessee Practitioners - Tennessee Attorneys Memo, Sponsor - September 18-19, 2008
Seminar: Economic Damages in Personal Injury and Wrongful Death Cases - Tennessee Attorneys Memo Audio Conference, Sponsor - June 25, 2008
Seminar: Medical Malpractice Conference for Tennessee Attorneys - Tennessee Attorneys Memo and Tennessee Tort Law Letter, Sponsor - May 2, 2008
Seminar: Successful Women Litigators: Taking It to the Next Level - Tennessee Association for Justice, Sponsor - April 25, 2008
Seminar: Vicarious Liability in Medical Malpractice Cases - Tennessee Attorneys Memo Audio Conference, Sponsor - March 28, 2008
Seminar: Handling Medical Negligence Claims - National Business Institute Seminar, Sponsor - March 18, 2008
Seminar: Tackling Advanced Medical Malpractice Issues - National Business Institute Seminar, Sponsor - December 12, 2007
Seminar: Medical Malpractice: Meeting the Criteria for the Locality Rule - Tennessee Attorneys Memo Audio Conference, Sponsor - November 20, 2007
Seminar: TBA/YLD Trial Practice Seminar - TennBarU and YLD, Sponsor - February 2, 2007
Seminar: Unlocking the Power of the Law, Fundamentals of Civil Litigation in Tennessee - Branham & Day, P.C. Sponsor - December 20-21, 2006
Seminar: Beyond the Fundamentals of Civil Litigation - Branham & Day, P.C. Sponsor - December 19, 2005
Seminar: Unlocking the Power of the Law, Fundamentals of Civil Litigation in Tennessee - Branham & Day, P.C. Sponsor - December 14-15, 2005
Seminar: Beyond the Fundamentals of Civil Litigation - Branham & Day, P.C. Sponsor - December 21, 2004
Seminar: Unlocking the Power of the Law, Fundamentals of Civil Litigation in Tennessee - Branham & Day, P.C. Sponsor - November 17-18, 2004
Seminar: Unlocking the Power of the Law, Fundamentals of Civil Litigation in Tennessee - Branham & Day, P.C. Sponsor - December 16-17, 2003
Seminar: Unlocking the Power of the Law, Fundamentals of Civil Litigation in Tennessee - Branham & Day, P.C. Sponsor - December 17-18, 2002