Personal Injury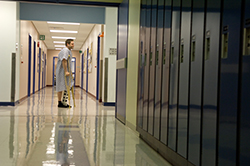 When people are seriously injured, it is easy to think that their pain is limited to the physical. However, the physical injury is often just the beginning. The mental, emotional, and financial impact of a serious or debilitating injury can be devastating to the entire family. If the injury was the result of another person's negligent behavior, the victim may be entitled to monetary compensation. The Blair Law Firm can help.
Assertive Representation. Compassionate Support
Rebecca Blair has extensive experience recovering for the losses of injured clients and their loved ones. She has successfully represented clients in actions for injury or wrongful death as a result of incidents including:
Workers compensation (work-related injuries)
Sexual assault
Slip and fall/premises liability
Drowning
Defective and unreasonably dangerous products
If you would like to see more videos to please go to our Videos page.
Even seemingly minor accidents can result in severe injuries such as:
Broken bones; fractured ribs; torn or seriously sprained ligaments
Neck/back pain
Spinal cord/brain injuries
Traffic fatalities/wrongful death
Serious burns/disfigurement
Injuries from seat belts or air bag deployment
Personal Injury Law in Tennessee
Tennessee personal injury laws are complex. The statute of lim itations to file suit varies depending on the type of claim. If you or a loved one has been injured, it is crucial that you contact a skilled personal injury law firm like The Blair Law Firm as soon as possible.
Contact The Blair Law Firm Today
The Blair Law Firm provides quality legal counsel to individuals and businesses throughout Tennessee in litigation matters involving trusts and estates, personal injury, business disputes and insurance coverage disputes. Contact the firm online or call (615) 953-1122.